1) Automatic feeder
2) DUST REMOVER (dry-type static electricity and brush double system)--Option
3) Vertical laminator (water base dry laminating and thermal laminating multifunction)
4-1) Round knife cutting
4-2) Chain knife cutting unit—Option
5)Automatic collector
Usage:
FM-
B
1080 fully Automatic Vertical High-precision and multi-duty laminator as a professional equipment used for plastic film laminating on the surface of paper printed matter. Widely applicable for laminating in packaging, paper box, books, magazines, calendars, and commercial cards fields, Improving the printing matter grades, and achieve the purpose of dustproof, waterproof, oil proof. it's the best choice for printing and laminating enterprises of all scales.
Machine brief:
FM-
B
1050 fully Automatic Vertical High-precision and multi-duty laminator is a newly developed product geared to the market demand, which is specially designed for water-based and dry laminating glue. The main unit is applied in cementing, drying and laminating, easy to operate. It can be used for multiple purpose, such as oil-type, water-based, and dry-type lamination. It is a new style film laminating machine. The chain knife cutting device (optional) specially for cutting thin paper which laminated for PTE, PVC film, also, it is suitable for cutting various thin films.
Machine each part introduction:
1. Automatic paper feeding machine edge landing machine
It adopts a feeder head for high-speed printer and has stable paper feed and accurate and simple operation; The automatic paper feeding device has the function of pre-piling paper and feeding paper continuously to guarantee continuous and stable laminating process, save time and improve productivity. The edge landing action controlled by servo motor make sure the edge precision is less than or equal to ±2mm; the automatic paper feeding device has the restriction in maximal and minimal paper size. Except the paper width is restricted, the length ratio of maximal paper and minimal is 3:1.
2. Powder removing machine unit (Optional)
The laminated dust remover unit adopts dry-type powder removal, which consists of a bristle brush for sweeping and absorbing powder and a heating press roll for removing powder. Powder action after the completion of edge landing action, to ensure that the paper feeding belt and paper feeding system in the process of removing powder no deviation and stable.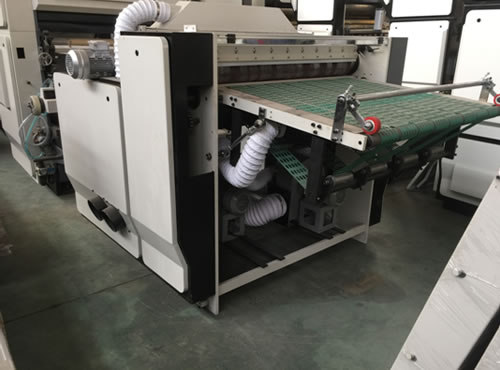 3. The mainframe consists of the gluing part, the drying part and the laminating part.
The gluing part mainly guarantees the glue evenness. It is gluing through the chrome roller running; the coating precision is normally controlled within 0.008mm; save more glue and gluing speed depend on the gluing precision, higher gluing precision with less glue and rapid gluing.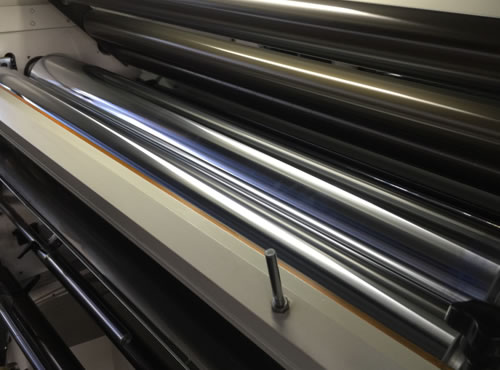 The drying part adopts a large-diameter steel roller (Φ620) with quartz transparent tube., the temperature is controlled within 80, it adopts strong hot air circulation to reach the aim of rapid drying. Meanwhile, it guarantees the glue film is not overheated and deformed or broken.
The laminating part adopts electromagnetic heating by the hot-press roller which with the advantages of rapid heating, energy saving and environmental protection. Its diameter is Φ380mm, the inner diameter of rubber pressure roller cylinder is enlarged to 63mm, the total maximal pressure reach to 10T, to ensure the products' quality with high speed laminating processing. Automatic device for glue roller boosting and releasing pressure, it is convenient to control pressure, and simple to operation. The mainframe controlling system adopts touch screen, simple operation and strong stability.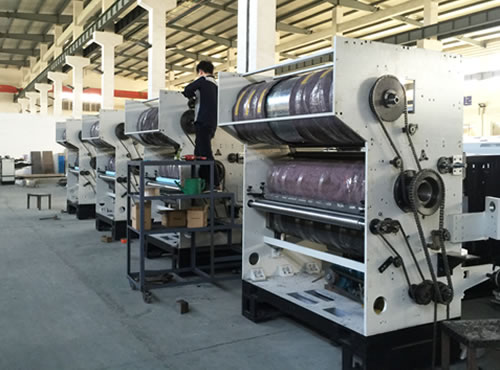 4. Paper cutter (paper cutter and paper puller)
The paper cutter adopts a round-cutter device with convenient adjustment. It can guarantee effective paper cutting for paper more than 105g. The cutter is provided with the chain cutting system which specially aims at PET and PVC film cutting, replaces the original round-cut film system, can effectively cut any film straightly, so that the paper delivering smoothly and simple operate and adjust. PET film with adhesion strength and with higher anti-breaking performance than common film, chain knife easy to cutting the PET film, so favorable for post-processing, greatly reduces labor, time and abnormal waste, therefore reduces cost, it is a good helper for the paper cutter. The chain device controlled by servo motor independently, it is simple operation and maintenance. The cutter machine is provided with a thin-paper anti-curling device. The cutter adopts frequency control could achieve synchronous regulation with mainframe
5. paper collecting machine
The automatic paper collecting machine of the laminating machine has the function of collecting paper without shutdown; the collecting size is matched with the paper feeder.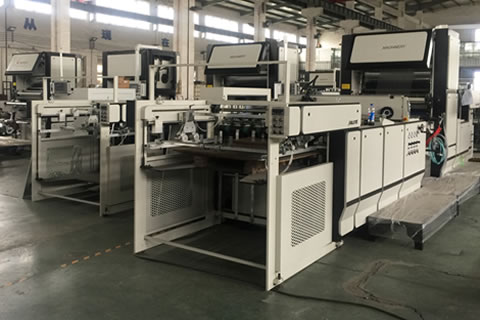 Machine specification:
Model

FM-1080B Automatic Laminating Machine

FM-1250B Automatic Laminating Machine

Max Paper Sheet

1050*1050mm

1250*1250mm

Min Paper Sheet

320*320mm

320*320mm

Min paper size

Customized 300*300mm depend on customer need.

Overlap precision

≤±2mm

≤±2mm

Paper Thickness

100-500g/m²

100-500g/m²

Working Speed

10-70m/min

10-70m/min

Feeding paper pile

1100mm

1100mm

Collector paper pile

1000mm

1000mm

Total Power

60kw

60kw

Overall Weight

7500kg

8500kg

Dimensions

8400*2200*2400mm

8400*2400*2400mm
Remark: accept customization of equipment in various specifications
1250*1250mm, 1250*1450mm, 1250*1650mm
Processing line:

PAPER FEEDING UNIT, EDGE LANDING UNIT, POWDER REMOVING UNIT(OPTIONAL), HOT-PRESS ROLLER (ELECTROMAGNETIC HEATING), LAMINATING MAINFRAME, PAPER CUTTER, PAPER COLLECTING MACHINE
Machine function brief:
This feeder head also for high-speed printer with stable paper feed and keep accurate.
Paper feeding and collecting function without shutdown, effectively shorten the time of working.
Edge landing unit with servo control guarantees accurate and reliable edge landing.
Adopt coating by the chrome treatment roller, save the glue quantity and have evenly coating.
Strong hot air circulation could rapid drying
Anti-crimping device is suitable for thin-paper coating.
The heating steel roller adopts the Oil heating system with rapid heating, energy saving and environmental protection.
Human-computer interface with touch screen, convenient and individualized
Industrial design, beautiful and elegant appearance, develop its own features
Main configuration list
| | | | |
| --- | --- | --- | --- |
| No. | Name | Brand | Origin |
| 1 | main motor | Bolilai | Zhejiang |
| 2 | Feeder | Runze | Zhuji |
| 3 | vacuum pump | Tongyou | Jiangsu |
| 4 | bear | NSK | Japan |
| 5 | optical fiber sensor | Omron | Japan |
| 6 | relay | Schneider | France |
| 7 | green flat button | Schneider | France |
| 8 | red flat button | Schneider | France |
| 9 | scram button | Schneider | France |
| 10 | rotary knob | Schneider | France |
| 11 | AC contactor | Schneider | France |
| 12 | servo motor | Delta | Taiwan |
| 13 | servo driver | Delta | Taiwan |
| 14 | servo reduction gear | Delta | Taiwan |
| 15 | switch power | Delta | Taiwan |
| 16 | temperature module | Delta | Taiwan |
| 17 | programmable logic controller | Delta | Taiwan |
| 18 | brake resistance | Delta | Taiwan |
| 19 | cylinder | AIRTAC | Shanghai |
| 20 | electromagnetic valve | AIRTAC | Shanghai |
| 21 | optoelectronic switch | Teach | Shanghai |
| 22 | touch screen | Xiankong | Shenzhen |
| 23 | transducer | Delta | Taiwan |
| 24 | breaker | CHNT | Wenzhou |
| 25 | electronic counter | Dahua | Wenzhou |
| 26 | thermal overload relay | Anderle | Wenzhou |
| 27 | hydraulic pump | Tiandi Hydraulic | Ningbo |
| 28 | rotating joint | Yujie | Quanzhou |
| 29 | chain | Sieling | Hangzhou |
| 30 | heating pipe | Longhui | Wenzhou |
| 31 | conveyer belt | Hulong | Wenzhou |
| 32 | one-way pneumatic diaphragm pump | FAZER | Wenzhou |
| 33 | draught fan | Yinniu | Taizhou |
| 34 | oil pipeline | Huilong | Hunan |
| 35 | electric thermocouple | Diqi | Shanghai |
| 36 | encoder | Omron | Japan |
| 37 | rolling motor | Shanghe | Shanghai |
| 38 | pressure gage | Heag | Hangzhou |
| 39 | amplifier | Laoyice | Germany |
| 40 | optical fiber | Omron | Japan |
| 41 | chain knife servo | Weikeda | Shenzhen |
| 42 | chain touch screen | Weinview | Taiwan |
The above configuration is subject to change without prior notice
Machine details: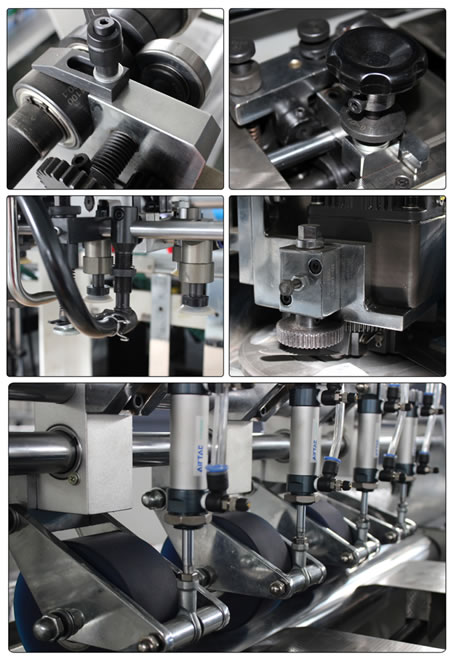 Samples:
Enterprise: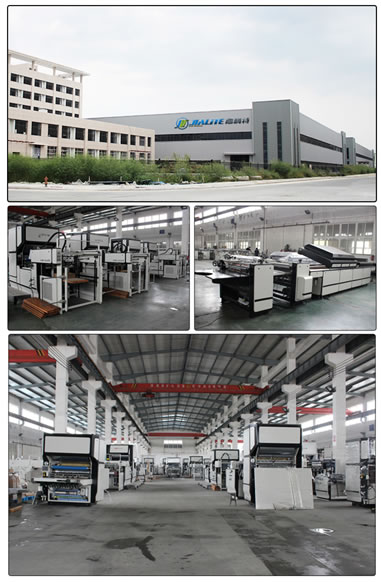 Warranty:
Machines are new (or unused) and the guarantee period will be given thirteen months from shipment date. During this period, the seller will provide free maintenance and free spare parts that caused by the machine's quality, but the buyer must pay the courier cost. Parts damaged because of mishandling and consumable parts are not covered by any warranty. Wages: 80.00USD per day!