1. Automatic paper feeder
2. Automatic thermal laminator
3-1. Round knife slitting (standard device)
3-2. Chain knife slitting and round knife slitting (Option)
3. Automatic collector
Usage:
FY-B series pre-coat glue automatic thermal laminating machine as a professional equipment used for plastic film laminating on the surface of paper printed matter. Widely applicable for laminating in advertising poster, Picture books and magazine, display book, color paper box, calendars, and commercial cards fields, Improving the printing matter grades, and achieve the purpose of dustproof, waterproof, oil proof.
Main Technical Parameters:
FY-800/1050/1250B Series Automatic Thermal Laminating Machine
Model

FM-800B

FM-1080B

FM-1280B

Max paper size-mm

780X880

1080X1100

1280X1280

Min paper size-mm

350×270

350×290

350×290

Speed-m/min

10-110

10-110

10-110

Paper thickness-gms

80-500

80-500

80-500

Over lap precision

≤±2

≤±2

≤±2

Thermal film spec.

1005,1006,1206 (1508 and 1208 for deep embossing paper)

Nonstop paper pile-mm

1150

1150

1150

Non stop collector

(include pallet) mm

1050

1050

1050

Main motor power-kw

5.5

5.5

5.5

Total power-kw

35

35

35

Work power-kw

25-28

Voltage

380V-50Hz-3P

Work pressure Mpa

15

15

15

Air pressure

Requirement-m3/min

1.0

1.0

1.0

Cable thickness-m2

16

16

16
★ Hot knife min paper size:360*320mm ; Chain knife min paper size:360*290mm
Installation size
No

Model

FY-800B

FY-1080B

FY-1250B

A

Overall length-mm

7000

8100

8500

B

Overall width-mm

1900

2200

2400

C

Overall height-mm

2100

2100

2100




Gross weight

6500

7500

8500




Net weight

6000

7000

8000

Non-stop feeding paper pile rail space with 2/2.5M
Option unit installation size
| | | | | |
| --- | --- | --- | --- | --- |
| No | FY-1050B | | L*W*H-mm | N.W/G.W/KGS |
| 3 | Round knife unit | ★ | 2950X2080X1700 | 650/700 |
| 4 | Chain knife unit | ⚪ | 1950X1800X1750 | 950/1000 |
| 5 | Hot knife unit | ⚪ | 1650X1800X1600 | 900/940 |
Customized size of the automatic thermal laminating machine:
FY-1050*1250mm, FY-1050*1450mm, FY-1050*1650mm; FY-1250*1250mm, FY-1250*1450mm, FY-1250*1650mm;
Main configuration:
1. Equipment appearance professional industrial design, spray-paint process, Practical and beautiful.
2. Non stop Feeder, automatic thermal laminating unit, automatic slitting (round knife suitable for OPP, BOPP), automatic collector.
3. The cutting device can be selected with chain knife and hot knife system, meet the needs of all kinds of film cutting.
4. The cutting device with a tension controller, bouncing function, ensure paper flat and unwinding.
5. High quality pneumatic conveying paper feeder with 4 suckers for lifting paper and 4 suckers for conveying paper to ensure stable and fast paper feeding.
6. Overlap device is controlled by side pull gauge and servo motor, ensure accuracy.
7. Paper conveying plate with customize corrugated stainless steel plate.
8. The hot press roller adopts electromagnetic heating system, uniform temperature, high efficiency and energy saving, it will ensure high quality products' film laminating requirements.
9. The electrical configuration mainly adopts the Taiwan Delta electrical control system and the French Schneider electric appliance.
10. Auxiliary cart lifting changing roll film, Single person independent operation.
Option configuration:
Chain knife, hot knife, double side laminator, double hot pressure.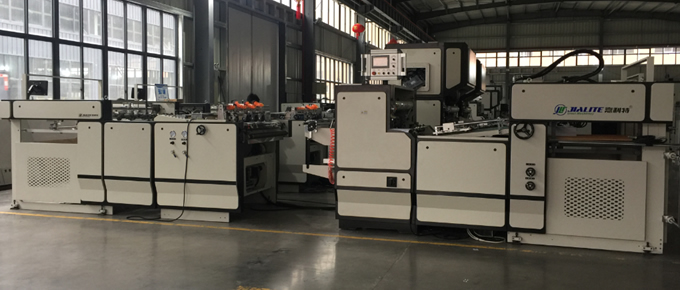 Function:
Automatic pre coating laminating machine, the composite processing of paper and pre coating film. This Machine structure is reasonable, high degree for automation, one person could operate independently. It's ideal equipment for print factories, packaging decoration, beauty print factories and professional plastic factories which can improve printing quality and reduce the process cost. Chain blade cutting type laminating machine (Optional) specifically for thin paper which laminated for PET, PVC, as well as other film slitting.
Function introduction of each part:
1. Automatic paper feeding part and edge landing part
The automatic paper feeding part has the function of paper pre-piling and paper feeding continuously to guarantee laminating process continuous and stable, Non-stop paper sheet feeding and collecting, save time and improve productivity. Feeder for high speed printing machine which has stable paper feed and accurate and simple operation. The paper edge lap device controlled by servo motor independent, that accuracy of up to ≤ ±2mm.
Paper delivery stable, side guide make sure the paper on the same line, automatic overlap device.
2. Laminator Part
The large steel hot-press steel roller adopts electromagnetic heating system, rapid heating, energy saving and environmental protection. Heating and pressing steel roller diameter 380mm, Robber roller diameter 300mm ; The inner diameter of the rubber pressure roller cylinder is enlarged to 63mm, the total maximal pressure reaches 10T could be make sure the requirements of high-speed laminating products' quality.
3. Cutting part
Cutting part with round (fly) knife device (Independent research and development by our factory), easy adjustment. It can make sure effective cutting for paper more than 105g/m². The cutter also provides with the chain knife system which specially for PET and PVC film cutting, the chain knife device could effectively cut any kind film straightly; (Chain knife device advantages: Paper delivery stable and easy adjustment. PET film with good brightness, strong adhesion and strong toughness, Printed matter in the later processing, reduces the labor and the rejection rate and save cost.) Cutter with the anti-roll device, it could be appropriate to improve the curl phenomenon when the thin paper to be pull-breaking. The cutter adopts variable frequency speed control which could able to synchronize with the laminator part.
Round blade for OPP, BOPP and PVC film, round blade matching Skip roller make cutting quick and clear.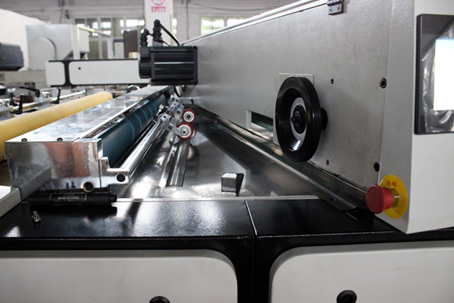 4. Paper Collecting Part
The automatic paper collecting part has the function of collecting paper without shutdown, the collector size is matched with the paper feeder.
Main Configuration list
| | | | |
| --- | --- | --- | --- |
| No. | Name | Brand | Origin |
| 1 | Main Motor | Bolilai | Zhejiang, China |
| 2 | Feeder | Runze | Zhejiang, China |
| 3 | Vacuum Pump | Tongyou | Jiangsu, China |
| 4 | Bear | NSK | Japan |
| 5 | Optical Fiber Sensor | Omron | Japan |
| 6 | Relay | Schneider | France |
| 7 | Green Flat Button | Schneider | France |
| 8 | Red Flat Button | Schneider | France |
| 9 | Emergency Stop Button | Schneider | France |
| 10 | Rotary Knob | Schneider | France |
| 11 | AC Contactor | Schneider | France |
| 12 | Servo Motor | Delta | Taiwan, China |
| 13 | Servo Driver | Delta | Taiwan, China |
| 14 | Servo Reduction Gear | Delta | Taiwan, China |
| 15 | Switching Mode Power Supply | Delta | Taiwan, China |
| 16 | Temperature Module | Delta | Taiwan, China |
| 17 | Programmable Logic Controller | Delta | Taiwan, China |
| 18 | Brake Resistance | Delta | Taiwan, China |
| 19 | Cylinder | AIRTAC | Shanghai, China |
| 20 | Electromagnetic Valve | AIRTAC | Shanghai, China |
| 21 | Optoelectronic Switch | Teach | Shanghai, China |
| 22 | Touch Screen | Xiankong | Shenzhen, China |
| 23 | Transducer | Delta | Taiwan, China |
| 24 | Breaker | CHNT | Wenzhou, China |
| 25 | Electronic Counter | Dahua | Wenzhou, China |
| 26 | Thermal Overload Relay | Anderle | Wenzhou, China |
| 27 | Hydraulic Pump | Tiandi Hydraulic | Ningbo, China |
| 28 | China | Sieling | Hangzhou, China |
| 29 | Conveyer belt | Hulong | Wenzhou, China |
| 30 | Draught fan | Yinniu | Taizhou, China |
| 31 | Oil pipeline | Huilong | Hunan, China |
| 32 | Encoder | Omron | Japan |
| 33 | Rolling motor | Shanghe | Shanghai, China |
| 34 | Pressure gage | Heag | Hangzhou, China |
| 35 | Optical fiber | Omron | Japan |
The above configuration is subject to change without prior notice
Samples:

Patent Certificate: